Preventative Maintenance
Discover computer problems before they become costly and time-consuming.
Computer maintenance is crucial to any business or home computer if you want to prevent data loss and inefficiency due to slow computers.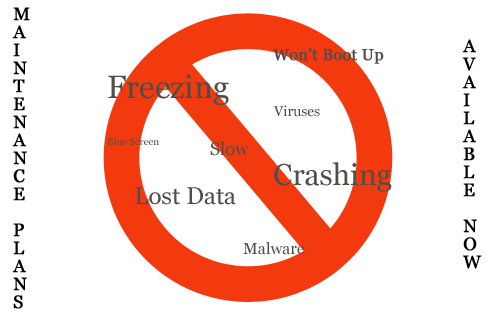 Computers WILL always malfunction, laptops will break down, servers will go offline, networks will become unavailable and you can never predict when it will happen.
Regularly scheduled preventive maintenance activities can help you avoid this chaos and expense.
Ask Erik provides preventative services to address the needs of home users or businesses that do not have qualified staff.
In order to keep computer hardware in good working order, you have to deal with dust – one of the main source of computer hardware failures. It is imperative to clean and properly lubricate all moving components, such as fans, power supplies, the main board and the CPU. There are various dos and don'ts that you need to be aware of or you will fry your computer or kill your printer. That is why we offer maintenance services, so you don't make costly errors.
Preventive Maintenance Service and Benefits
Service: Anti-virus software updates & virus/malware scans. Spyware, malware sweep, system scans and removal of malicious software.
Benefit: Minimize the risks associated with receiving infected files. Valuable files aren't compromised/destroyed by virus infections. Prevents intruders from unauthorized data access/manipulation, entering and controlling you system. This activity is crucial especially when you shop online and/or do online banking, which involve secure transfers of confidential and personal information.
Service: Data Backups, protection and Disaster Recovery. We can evaluate your current set up or get you started with a system from scratch.
Benefit: Increase system up-time and critical data availability in case of data loss. Backups are an essential part of data protection.
Service: Regular Hard Disk Defragmentation: reorganization of data stored on hard drives. Allows to keep your PC running at peak performance.
Service: Operating System Security Updates and Patches installation.
Benefit: Keeping Operating System up-to-date will provide fixes to security vulnerabilities and holes as well as resolutions to well-known and identified software bugs.
Service: Temporary and unnecessary files clean-up. Old, unused programs removal. The registry scans and Startup environment cleanup. Frees up disk space.
Benefit: Overall system performance improvement. Faster system boot-ups.
Service: Current hardware review/inventory and recommendations for upgrades if necessary for uninterrupted system functionality.
Benefit: Proactively plan for hardware upgrades and replacements to prevent unanticipated problems.
Call us today at 541-359-3111 for all preventative needs.  Taking care and preventing problems is significantly cheaper than fixing a problem after the fact!